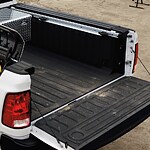 At Bayird Dodge Chrysler Jeep Ram Of Kennett, we deal with a varied selection of clientele, whose lives are all very different. However, one thing that they have in common is everybody wants a vehicle that's going to last. The Ram 2500 is a heavy-duty pickup truck that's proving itself to be very popular right now, and we think it's due to its durability features.
The Ram 2500 packs a 50,000 PSI steel frame, which should set your mind at ease should anything ever get in your way on the road. The smart diesel exhaust brake system is another aspect of the 2500 sure to deliver good results, as it works to ensure a smooth control of your vehicle when braking on a slope. This system should also reduce wear and tear on your disc brakes, ensuring a long life.
If you want, come by Bayird Dodge Chrysler Jeep Ram Of Kennett to test drive the Ram 2500 yourself - there's no better way to get a feel for it.